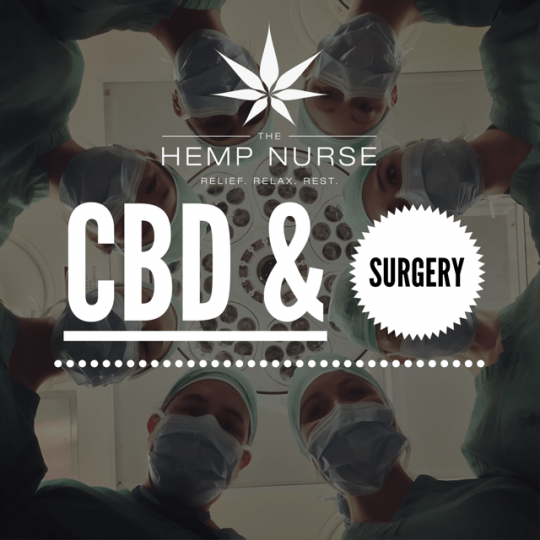 Post-Op Use of

 

CBD Oil
As is well knowledge, the notion of undergoing surgery can be highly unsettling for a lot of people. In addition to the actual operation itself, the psychological toll that results from heightened anxiety may only make the surgical experience more challenging. Because there is so much emphasis placed on the human body in today's culture, many people have resorted to surgical procedures in the hope of achieving fast results, and many of them have been successful. Whether the necessity for surgery is due to legitimate medical needs or elective, the problems that one will encounter are the same along this trip. Social media and reality programs have now been put at the forefront of a reality that the majority of people wish to live. In the past, when it came to providing relief from pain after surgical operations, opioids were the only solution that the medical sector had to offer. Opioids have been shown in a number of studies to have a high potential for addiction and to be taxing on the body when it is recovering from surgical operations, which may lengthen the time needed for recovery and repair. Because of this harsh truth, a lot of individuals have been driven to look for alternative organic sources that may help with pain relief throughout the recovery process after having surgery. The development of CBD has been, by a significant margin, the most successful of all the pharmacological and botanical therapies.
By now almost everyone has at least heard of CBD and everyone who has tried Cannabidiol (AKA: CBD)can tell you that CBD has many health benefits and it is often used for is anti-anxiety and anti-inflammatory properties. Which is perfect when one is to consider for invasive surgical recovery. Regardless, if you're taking the CBD Oil Tinctures, CBD Gummies or the CBD Topicals – CBD is widely used routinely as an daily supplement to achieve true organic wellness and disease prevention.
As mentioned, evolution of social media and self-proclaimed influencers have significantly increased the popularity of elective plastic surgery and surgery in general on all areas of the human body for both men and women.  These popular elective procedures have been noted to be worth the results, but many people have very vocal about the dreaded pain as a result of these procedures. In the attempts to manage the pain caused from the surgical procedures and opioids side effects during the recovery process as proven to be problematic. If you are considering surgery It is vitally important to know in advance of your upcoming surgery that you have identified a highly effective alternative pain relief option.  It is our goal to ensure that you are informed prior to making any elective surgery procedures, so let's take a deep dive into the specifics so you're equipped with the knowledge you need in order to make an informed decision. in general, surgery is much more very dynamic and complexed than the actual procedure itself than we think, so please continue…
Consult a Physician
It is imperative that prior to any consideration of surgery that the first and foremost step that you take is to consult your primary physician. Your physician or surgeon will inform you of the entire surgery prescreening process for to any surgery procedures to ensure that your body is physically prepared and can tolerate any invasive procedures. The fact remains that there are so many variations of pharmaceutical drugs used to complete these procedures it is vital that you are honest and disclose to your medical history and any and all medicine and supplements you are taking – yes, this includes CBD Oil. Many physicians are also study holistic medicine and can offer valuable insight that could aid in your education and recovery process. Therefore, It would be wise to consult your physician about their knowledge and research they are aware of regarding the benefits of CBD. Your surgeon or physician is your advocate and health partner and they will inform you of any concerns regarding any supplements/medications prior to surgery as well as post-surgery/recovery.
Step 1- The first 48 hours prior to your surgical procedures you will need to know that it is possible that you may be asked to discontinue any supplements since many of them including CBD have blood thinning potential which is not ideal during surgical procedures. Since COVID-19 s also here they may also require a negative COVID test 3 days prior to your procedure. Partnering and communicating with your physician is key to a successful and well educated surgery experience.  It is common knowledge that CBD and Hemp Oil extracts are safe independently, surgery alone has so many risks associated that if combined with other kinds of medications especially anesthesia – could cause issues and impact the overall surgery recovery process.
Many patients choose to medicate with CBD in efforts to help manage the increased anxiety levels prior to surgery; this is typically approved up until the last 48 hours prior to surgery. Again, it is always consult your physician/surgeon however, it is totally safe to assume that CBD products will be safe to use until you are directed to discontinue other traditional diets, beverages, and other medications by your physician/surgeon.
Step 2- Tolerance for Anesthesia and Opioids
Since many states have legalized cannabis use. However, if using cannabis prior to surgery it has been noted to cause increased pain levels due to individual tolerance. One study in particular found that consumers of cannabis who used cannabis before surgery experienced higher pain levels and often required additional anesthesia during surgery and more opioids post surgery than many non-users. There are numerous studies that suggest regular cannabis (not CBD)  consumers typically require more anesthesia and opioids compared to nonusers, during surgical procedures.
Even if you are a cannabis user, it is of the utmost importance to discuss all of your prescriptions and supplements in advance with your primary care physician or surgeon. Your primary care physician is the most important partner in your health care, and the information that you provide helps your surgeon and other medical professionals be better prepared to meet your needs regarding your level of pain tolerance and to keep you safe and stable throughout the surgical process.
Make sure your family and friends are aware of your contacts, and provide them with a list of the members of your care team. There is no set order for the members of your care team; however, they may include your physician, surgeon, and anesthesiologists, all of whom are committed and obligated to provide you with the highest levels of care. Your care team wants you to feel secure and at ease enough to trust them so that you will follow their advice about the use of pharmaceutical and supplement drugs. This is the aim. The prescreening suggestions will be verified before to surgery, and if any of the criteria aren't satisfied, it might cause a delay or cancellation of any surgical operations that have been booked. Therefore, the possibility exists that the surgery will be canceled. Therefore, behave properly.
Step 3- Post Op
Upon surgery completion the recovery process begins and it should be expected to experience pain and discomfort specifically in the areas of direct impact for the surgical procedure- this is normal.  In this stage comfort and pain-management is key; your clinical care team will seek to ensure that you are comfortable post-op and will immediately align pain management medications for you in efforts to expedite the recovery process. It is important to know that CBD organically/naturally contains powerful anti-inflammatory properties, which is why it has become the medication and pain-relief of choice for many consumers and physicians who are in need to manage pain. It is no wonder why CBD is becoming he most widely used supplement of choice for athletes in recovery.
Using Hemp/CBD Oil to aid in the management for post-operative pain is safe to do, as always – check with your clinical team for any conflicts with other prescribed medications.  Post-operative medication can include the regular dosed consumption of CBD products that can be taken in many ways. The post-op surgery complications can be vast and often can include body/muscle pain, nausea, headaches, and more.  CBD has significant benefits that aid in the relief of arthritis, muscle pains, anxiety, depression, insomnia and even weight loss. CBD has many properties that support in the organic and all-natural recovery process post-surgery.
CBD has been the organic supplement of choice for patients battling depression and anxiety.  CBD has the ability give the calm and restful effects that allow patients of insomnia which allow restful sleep and aid the post-operative recovery process – see more on that study here.
Additional facts about CBD is that there are powerful Antibiotics in CBD.  The healing process can be expedited by these antibiotics found naturally in CBD, these antibiotics are unique as they have been found to eliminate microscopic organisms that can enter body while in recovery.  When in recovery post-surgery the body is the most vulnerable and immunity and defense system is often compromised – this is why CBD is highly recommended to support in this process.
Ways to Take CBD!!! CBD can be consumed in various ways into the body.  Many consumers of CBD consume CBD Oils via tinctures, oils, cbd gummies and edibles. The objective is often to provide the fastest relief to the areas of need.  These forms in particular are known to be more potent and deliver fast-acting, long-lasting pain relief. Hemp Extract and CBD Oil has been proven to be safe and you should always follow dosing as indicated on the supplement.  However, CBD is very safe and has very minimal risk and should consume accordingly to the dosage recommendation.
#CannaFamilyCBD #cbd #cbdoil #cbdoils #cbdhealth #cbdheals #cbdmovement #cbdheals #cbdflowers #cbdhelps #cbdwellness #cbdlife #hempoil #cbdoilbenefits #cbdforanxiety #cannabinoid #cbdforthepeople #inflammation #organiccbd #hemplife #cannabis #cannabisoil #cbdhealth #cbdlifestyle #painrelief #naturalpainrelief #fullspectrum #fullspectrumcbd #vegan
⁣Sources: https://pubmed.ncbi.nlm.nih.gov/1158630/ Sources: https://www.ncbi.nlm.nih.gov/pmc/articles/PMC6326553/