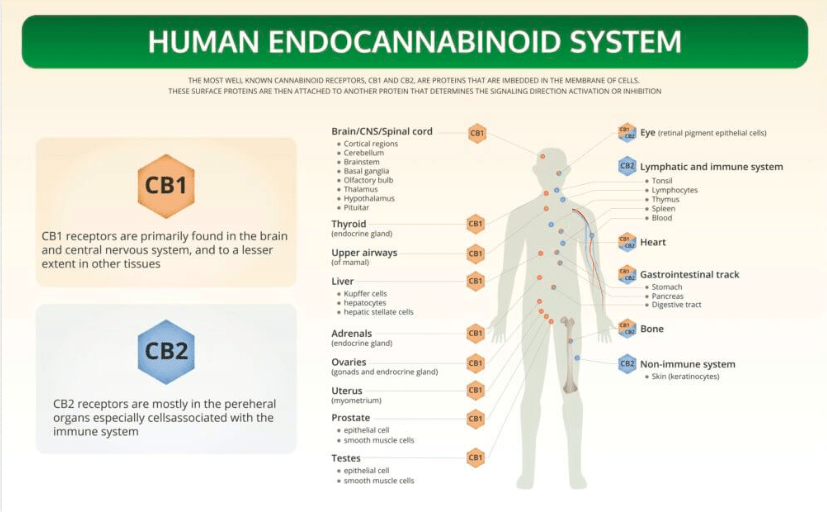 Your Endocannabinoid System
Cannabidiol (CBD) is a naturally occurring cannabinoid constituent of cannabis. It was discovered in 1940 and initially thought not to be pharmaceutically active. It is one of at least 113 cannabinoids identified in hemp plants, accounting for up to 40% of the plant's extract.
The endocannabinoid system can be stimulated by the use of CBD, a cannabinoid produced by the hemp plant. As such, CBD could be used to influence major hormones including insulin, cortisol and melatonin, so is increasingly being cited as a natural treatment option for hormone problems. CBD is widely used and can be consumed in many different ways, including being inhaled of cannabis smoke/vapor as an aerosol spray into the cheek and mouth. It may be supplied as an oil containing only CBD as the active ingredient (no added THC or terpenes), a full-plant CBD-dominant hemp extract oil, capsules, dried cannabis, or as a prescription liquid solution
All of our CBD products are derived from hemp, and can also be referred to as CBD Rich Hemp Oil, Hemp-Derived CBD oil, or CBD-Rich Cannabis oil. However, CBD oil from the Hemp Nurse is different from hemp seed oil and organic hemp oil, as these are derived from hemp seeds (not the resin) and do not contain cannabidiol.
The Endocannabinoid System (ECS)
Every human being, and indeed even almost every animal, has an endocannabinoid system (ECS) in their body. The endocrine system is a complex network of glands and organs. It uses hormones to control and coordinate your body's metabolism, energy level, reproduction, growth and development, and response to injury, stress, and mood. The following are integral parts of the endocrine system, also referred to as hormone systems, are found in all mammals, birds, fish, and many other types of living organisms. They are made up of:
Glands located throughout the body;
Hormones that are made by the glands and released into the bloodstream or the fluid surrounding cells; and
Receptors in various organs and tissues that recognize and respond to the hormones.
The Hemp Nurse CBD and Your ECS
Unlike THC, cannabidiol doesn't really bind to either of the CB receptors. However, many studies have shown that CBD has a significant effect on the functioning of the ECS. Many scientists believe that CBD exerts its influence by interacting with FAAH to prevent the enzyme from breaking down anandamide present in the body. By inhibiting FAAH, the amount of circulating anandamide increases. This means that the positive effects anandamide has along the ECS pathways increase, too.
Additionally, The Hemp Nurse CBD Oil is a powerful antioxidant, is capable of increasing the production of 2-Ag (an ECS agonist), and interacts with other receptors in the body beyond the ECS to produce a wide range of beneficial medicinal effects. Studies also suggest that CBD has the potential to modulate the psychoactive properties of THC in certain ratios. Especially important is that current research shows CBD can potentially increase anti-inflammatory effects, reduce levels of anxiety, and catalyze the destruction of certain cancer cells.
Types of CBD Products Available @The Hemp Nurse
CBD Isolate products

 

are gaining in popularity because they are completely THC-free. Customers can experience the full benefits of CBD without worrying about THC.
Phytocannabinoid Rich (PCR) Hemp Oil – PCR products are produced through a proprietary extraction process which incorporates a chromatography method which allows the naturally occurring THC to be identified and separated out completely from the extract, while leaving perfectly intact the entourage of other naturally present synergistic compounds such as CBG, CBN, CBC, and a large and diverse amount of terpenes. This product is called zero THC full spectrum oil because these plants produce a very high amount of CBD naturally and the other unique compounds within the plant have evolved to support it in a very synergistic way.
Full-Spectrum products contain a full range of cannabinoids and terpenes. These products contain trace amounts of THC – less than 0.3% which is the legal limit. The concentration is far below what is necessary to produce a psychoactive effect, meaning users will not get "high" – however, consistent use of these products can cause enough THC to build up in the system to fail a drug test. Using Full Spectrum CBD products
Using Your CBD products
 

from the The Hemp Nurse

Realizing the benefits of CBD is based upon identifying the amount that your individual body positively responds to. The amount of CBD you give yourself is extremely IMPORTANT. The goal is to identify the amount that works for your body and continue to use that amount as often as needed to achieve the results you desire. Daily use is HIGHLY recommended to receive the maximum benefits.   

ALWAYs discuss your desire to use CBD products with your Primary Care Provider if you are under a Provider's care. 
#cbd #cbdoil #cbdoils #cbdhealth #cbdheals #cbdmovement #cbdheals #cbdflowers #cbdhelps #cbdwellness #cbdlife #hempoil #cbdoilbenefits #cbdforanxiety #cannabinoid #cbdforthepeople #inflammation #organiccbd #hemplife #cannabis #cannabisoil #cbdhealth #cbdlifestyle #painrelief #naturalpainrelief #fullspectrum #fullspectrumcbd #vegan #thehempnurse