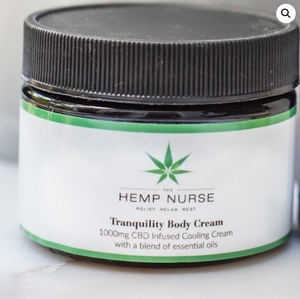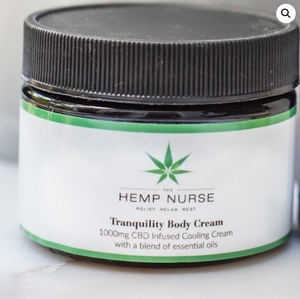 On Sale
Tranquility Body Cream - 1000mg
Tranquility 1000mg Cannabinoid Infused Body Cream
1000mg of Cannabinoid Extract in each 3oz container
1000mg of our Signature Cannabidiol Mixture - also contains a blend of essential oils
Our Cannabinoid infused Body Cream is made from all natural, plant-based ingredients.
This blend of natural oils applies smoothly and absorbs rapidly into the skin, delivering CBD Oil to the areas where you need it most.
Appropriate for full-body use.
Our curated CBD Extract Oil-Based Body Cream is comprised of All-Natural plant-based ingredients.  Our Phytocannabinoid-Rich (PCR) Products are crafted with care using 100% Pure Broad-Spectrum CBD Oil

Our Tranquility Body Cream is appropriate for full-body use while providing optimal moisturizing benefits without the greasy residue.
In addition to our Award-Winning High Quality CBD Extract Products, we offer the highest level of customer support to assist you in your CBD Oil selection.
Our Tranquility Cooling Body Cream specially formulated blend of natural oil, herbs, and eucalyptus. We have found that this combinations of natural ingredients penetrate deep below the skin – revitalizing the muscles and skin for an exponential recovery and relief process.  Our Tranquility Cooling Body Cream is perfect for sore, achy muscles and chronic body aches.
#CBDgummies 

#CBDcapsules #CBDtinctures #CBDtopicals #CBEdibles #CBDvapes #CBDflower #CBDprerolls #CBDoilforpets #CBDoilforskincare #hempproduct