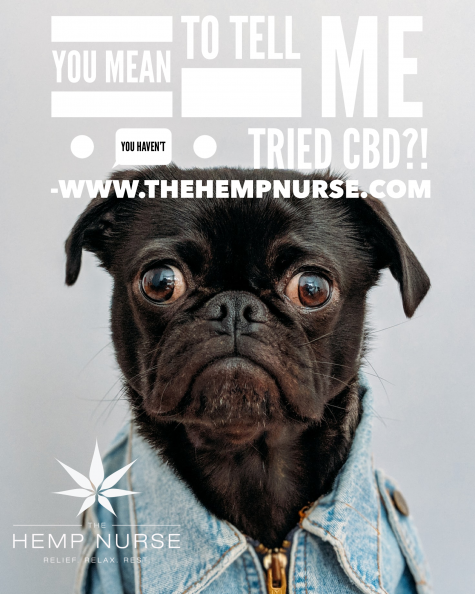 Relief for Pet Stress
CBD (cannabidiol) is a compound found in cannabis that has been shown to reduce anxiety and pain in humans. It also appears to improve mood and behavior in dogs – Thus bringing us to how Pet CBD Oil can help your furry friends.
Similar to how stress affects humans, dogs and cats can also suffer from its bad consequences and occasionally struggle with issues like separation anxiety while you're away for the weekend or at work all day. Our CBD oil is also exactly what your pet or animal needs to feel peaceful and comfortable if they experience separation-related stress or don't handle stressful situations well in general.
Combats Inflammation

The body of your dog may experience inflammation at times to assist in the healing process after an accident. The inflammatory process, however, frequently goes awry, leading to long-term health problems and a lower quality of life. Your dog may benefit from managing digestion problems, allergies, skin conditions, and other conditions by reducing inflammation.
Pets recover more quickly

The endocannabinoid system, which is crucial in the control of pain and inflammation, is the focus of CBD oil particularly. Our customers use CBD oil to help lessen suffering and discomfort, as well as to encourage quicker healing following an injury or operation.
Enhancer of Pet Energy

Although aging is a painful and unavoidable process, people and animals can nonetheless go through it with dignity. Dogs become less motivated and lively as they age. This occurs frequently as a result of various health conditions preventing them from moving forward. Your dog needs the broad-reaching effects of CBD to give its life new life.
Sleep Assistance

Despite your best efforts, it is possible that your pet isn't the most attentive creature in the world, leading to a variety of behavioral problems. In other words, certain animals have what people refer to as "racing thoughts," which makes it difficult for them to focus on one task for a lengthy period of time. This makes coaching them more challenging. The Hemp Nurse CBD Pet Oil reduces stress and enhances concentration to help you and your pet get along better.
Pets' Healthy Joints

Pet arthritis is quite widespread, and the majority of pet owners don't know how to help their animals besides giving them medications. Older dogs may experience a lot of stiffness and discomfort, which can limit their movement and lower their quality of life. Dog owners frequently use CBD oil to help ease the pain. It used to provide us some relaxation so that our cherished dogs could explore the area a little more excitedly, as they frequently do with rosebuds.
Why you should give your pets CBD
Superior Quality
The same premium ingredients that go into making our CBD oil for people are also used to create our CBD selection. We extract the potent CBD and other beneficial cannabinoids from all-natural, organic, non-GMO hemp plants using a premium MCT oil base.
Delectable Tastes
We have considered the fact that dogs and cats are carnivores by nature while developing the tastes for our pet CBD oil line. There will be two varieties available that are suitable for pets.
Created to help Your Pets
All mammals receive the same benefits from CBD. However, there are distinctions between how CBD products are used by humans and dogs. The dose is the most significant change. Our pet products are created exclusively with your pet in mind. In order to match the potency of our oils to dogs' or cats' weights, we consulted veterinary experts.
Comprehensive Extract
When it comes to hemp goods, there are two schools of thought. You can purchase products with only pure CBD or oils with more than a dozen other advantageous cannabinoids and terpenes created in conjunction with CBD. The scientific evidence demonstrating that full-spectrum solutions perform better and cover a larger variety of benefits led us to choose the latter.
CBD Laboratory Testing for Quality Control

Safety is of utmost concern while making CBD supplements. Before their CBD oil is sent to their house, we want our consumers to know exactly what is in the bottle. We put all of our CBD products through independent lab testing, looking for over 200 common contaminants and the whole cannabinoid concentration that could affect the quality of our CBD pet oil.
The Hemp Nurse CBD Oil For Dogs Can Help You Take Care Of Your Animals (And Cats)

While our oils are well-liked by dog owners, they are equally effective when used on cats. Our cherished dogs should be treated as members of the family, not as mere creatures. This implies doing what we can to provide them with the most basic care. We have worked hard to make our premium pet oils, pet treats, and other products inexpensive and available to everyone.
Your dog or cat has highly complicated bodily and psychological needs, which the endocannabinoid system helps to maintain in a balanced manner. Our CBD oils work with your dog's natural regulatory system to help alleviate frequent sources of pain and poor quality of life.
Find CBD edibles for both humans and animals here.
cbdoil #gummy #hemp #hempoil #cbdoil