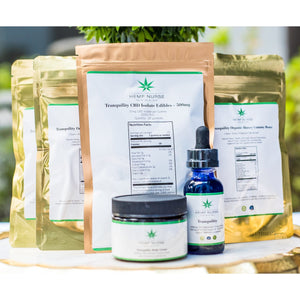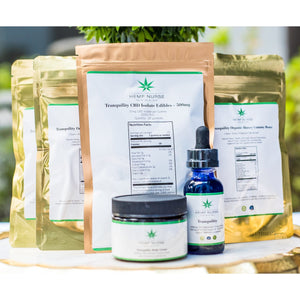 On Sale
Happy Healing "RECOVERY" Bundle
Tranquility – Happy Healing "Recovery" CBD Product Bundle
1- Bottle of Tranquility 3000mg PCR CBD Oil – THC Free
1- 50mg Tranquility Topical Patch - Infused with Gold Full-Spectrum CBD Oil
3- 500mg Tranquility Full Spectrum Edibles 
1- 1000mg Tranquility CBD Body Cream – Signature Cannabinoid Mixture

In addition to our Award-Winning High Quality CBD Oils, we offer the highest level of customer support to assist you in your Hemp Extract product selection. 

This Exclusive Bundle is Designed Specifically to offer Maximum Relief to aid in  Recovery from any procedure or injury.
This powerful CBD-Based Bundle was specifically designed to offer maximum relief for those who have low pain tolerance and are in need for consistent relief.  The combination of topical and edible CBD products give a robust solution to common and chronic areas concerning pain and promoting relief. This bundle has been popular among men and women in support of their common desire for an organic pain management solution post operative surgery. This bundle has become very popular among the clinical & surgery community.  Many customers have noted to use this bundle for many other chronic areas of pain such as arthritis, muscle and nerve pain, even anxiety.  If you are in need of organic relief or even if you are seeking to balance your overall wellness organically, The Hemp Nurse is your answer.