Cannabidiol (CBD) is the major cannabinoid in hemp. It's non-intoxicating, so it won't get you high or make you form habits around it. 
CBD-infused products are an important part of the wellness space. They have been shown to alleviate physical discomfort, help with acne problems, and improve overall skin health.
At The Hemp Nurse CBD, you can choose from a variety of CBD formats, including oils, capsules, vapes, and lotions.
CBD itself doesn't show up on a drug test, but can a full-spectrum CBD lotion make you score a false-positive result for THC?
That's exactly what we'll cover in today's guide.
Why Use CBD Lotions?

CBD lotion is one of the most common topical forms of cannabidiol. It can be used to address localized discomfort, such as local aches and soreness. Lotions also have remarkable moisturizing properties, so they can help with dry skin and prevent cracking.
CBD lotions are available in different formulations and scents. Compared to conventional topicals, CBD offers faster and more effective relief because it interacts with the ECS (endocannabinoid system) — the major regulatory network in all mammals.
CBD lotions also use different types of CBD extracts, including full-spectrum CBD, broad-spectrum CBD, and isolate.
Can CBD Lotion Make You Fail A Drug Test? 
There are different types of drug tests, but the most common way is through analyzing a urine sample or blood sample. Less common forms of drug testing include hair follicle tests and skin testing.
Drug tests don't look for CBD because it doesn't have mind-altering effects. Instead, they look for THC, so taking pure CBD shouldn't negatively affect your screening.
With full-spectrum CBD, it's theoretically possible to get a false-positive result for THC, but in order to do so, a person would need to take around 2,000 mg of CBD oil daily. Most people never exceed 100 mg.
But what about CBD topicals? Since a CBD lotion doesn't enter the bloodstream, can it make you fail a drug test?
Why CBD Lotion Won't Make You Fail a Drug Test?
CBD lotions use a different mechanism than oral and sublingual forms of CBD. When you take CBD oil or capsules, they enter your bloodstream either through the digestive system or through the mucous membrane under your tongue.
CBD vapes absorb through the lung tissue and can enter your system faster than other forms.
But, CBD lotions don't interact with your bloodstream. Instead, they engage with cannabinoid receptors in the skin to produce localized relief from discomfort.
The only way a topical product can pass into the bloodstream is if you use a transdermal patch. But then again, that patch would need to have much higher levels of THC than 0.3% to make you fail a drug test.
Is CBD Legal in the US?
With the passing of the Farm Bill in 2018, CBD use is now legal on a federal level. Each state has its specific rules in the regulation and control of CBD, but none of them has decided to ban it. 
Hemp-derived CBD is legal as long as it contains 0.3% or less THC — the intoxicating ingredient in cannabis. The FDA has yet to approve the use of  CBD-infused products for specific health conditions, and once they do, we can expect more regulations and guidelines to come.
Does CBD Lotion Get You High?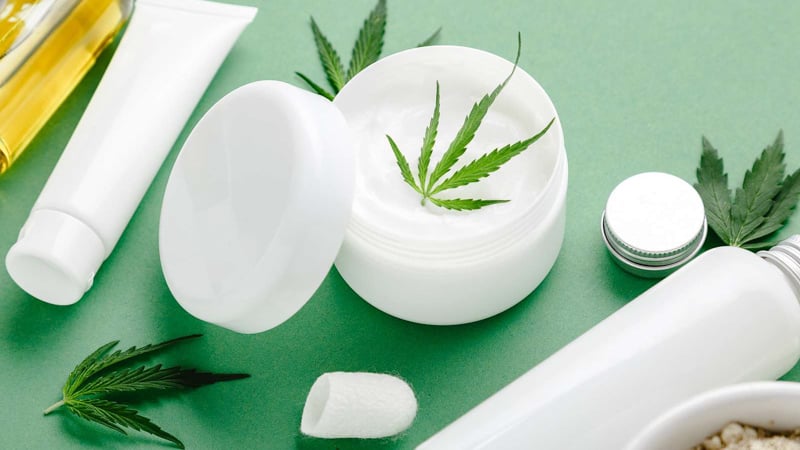 The skin is the first line of defense of our bodies. The skin barrier protects it against anything that can harm it — including environmental factors. 
CBD lotions are applied directly to the skin, and the tensioned muscle quickly absorbs it. You can feel the effects of CBD lotion because it interacts with your cannabinoid receptors. However, it doesn't penetrate the bloodstream. 
That's why you won't get high from using a CBD lotion. Not only does it not enter your system, but it also doesn't have enough THC to induce intoxication.
Learn More: Can You Get High from CBD Oil?
How to Pass A Drug Test?
The fastest and safest way to pass a drug test is to refrain from using any substance or supplement that will yield a positive result before taking the test. 
However, some consumers are in dire need of CBD lotions and other CBD-infused products that need to undergo drug testing.
Here are some tips to help you pass your drug test while using CBD-infused products: 
Choose pure CBD

 

– there are three categories of CBD products: full-spectrum CBD, broad-spectrum CBD, and isolate. CBD isolate contains just CBD. It doesn't have any other cannabinoids or terpenes. It's also THC-free, so taking CBD isolate minimizes the chance of failing a drug test. 

Use a home drug-testing kit

 

– you can buy a  home drug testing kit and conduct a self-test every now and then. This way, you can maintain and track your THC consumption. 

Buy from legitimate sources

 –

 

there are a lot of mislabeled products churned out by sketchy companies due to the lack of regulations on the market. Make sure to run a thorough research on your potential vendors, checking things like hemp source, extraction methods, and third-party testing.
Key Takeaways on CBD Lotions and Drug Tests 
Based on research, CBD lotion won't make you fail a drug test because its contents don't penetrate the bloodstream. Instead, they interact with the skin's endocannabinoid system to produce the desired results.
However, it's understandable that you ask this question since CBD products are in high demand. 
The only way you can fail a drug test with a CBD product is if it contains higher than advertised levels of THC. If that's the case, your product may also be illegal if you live in a state that doesn't have an established recreational marijuana market.
If you're concerned about adding a CBD lotion to your skincare routine, you can opt for isolates or broad-spectrum lotions instead of the full-spectrum ones. This way, you'll know you're on the safe side as long as your product has been tested by a third-party lab.